Read more about Shapewear Bodysuits
Bodysuits
Without any doubt, you may have heard about them in modern times. Currently, they are assumed to be essentials of a modern wardrobe because they offer both convenience and style all-in-one and also they become best shapewear for tummy and back fat. All the fashion bloggers and celebrities are seen wearing them effortlessly. That is why their body shape looks so perfect and leaves us all in amazement. So, let's discuss them in detail and know how you can have them too.
What are Shapewear Bodysuits?
They are said to be a kind of single-piece clothing that is almost similar to wither leotard or a one-piece swimming suit. But they are different from both of them depending upon their design, cutting, fabric, and function.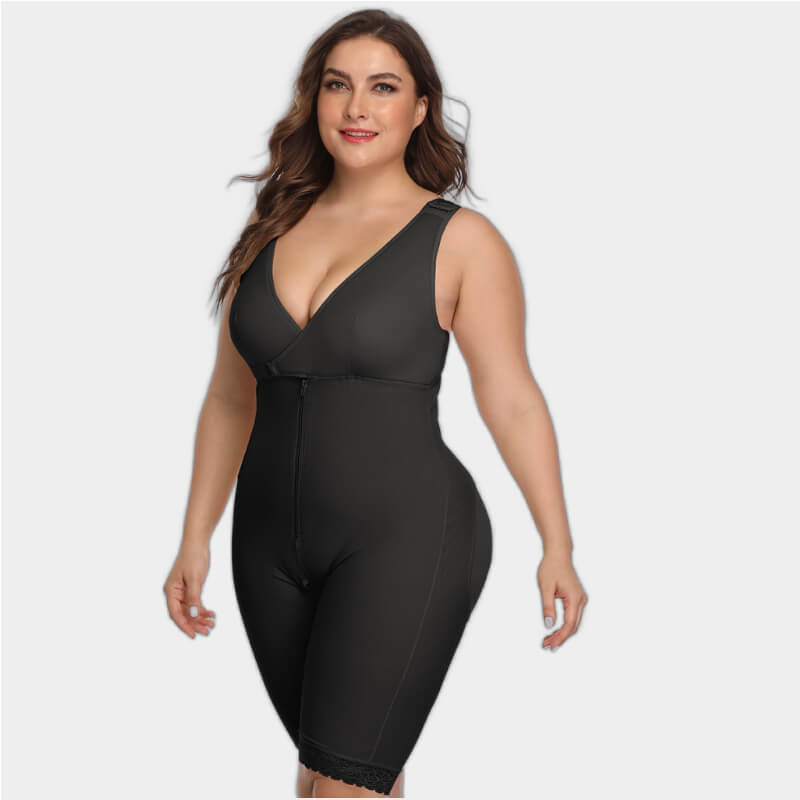 The upper portion of a suit is similar to commonly stylized tops that are worn on various occasions from casual to formal
While the bottom part of a bodysuit gets attached to different kinds of panties and Leggings that cover the torso and hip area of women.
Most of them come along with unique snaps especially at the crotch area for comfortability in the bathroom without the need of putting off them entirely. Moreover, their most common styles include full body and unlined thongs. They are very comfortable to wear all day long as they fit the body shape properly. So, you can easily opt for them for any of your occasions either casual or formal.
Different types of Bodysuits at Hidethatfat
Best shapewear for tummy and back fat usually come in a wide versatility range. Their usage and stylization are unbeatable. Thanks to the modernization of their recent trends that allow you to have them in several form-fitting styles that fulfill your needs in tons of cuts, fabrics, and colors. The following are some of the different kinds available at our store:
Scoop-neck suits
Those with plunging necklines
Unique lace-up and cutout bodysuits
off-shoulder styled
Sleek black
Contrasting colors full-body wears
Long-sleeved turtleneck
Single-piece swimming suits
A piece of Leotard or Lingerie for a sexy look
Costume based
You can easily visit our website hidethatfat.com and can have a look at all of our products and then choose whatever suits you the best. All of them are reliable and are present at our store at the most reasonable prices. We would love to assist you in having a perfect body figure like your favorite celebrities.
How to Put Shapewear s on?
Putting on a best shapewear for tummy and back fat may sound like something interesting to you, but it is not that much complicated. Just you need to wear it on from all top to bottom, and then close the hooks/snaps present at the crotch area. You are ready to go!
However, many women usually ask that should they need to wear any kind of shapewear bras or panties along with them? The simple answer to them is No. That is because a bodysuit is itself a complete smart garment that combines both the top and underwear in itself. But still, if anyone intends to put any other undergarments below it, then it is their own choice. Otherwise, they are not needed.
Different ways of styling with Hidethatfat Bodysuits
Besides used as simply a layering body shaper, bodysuits can be worn as numerous fashion and style statements too. They can be stylized with either skirt, jeans, shorts, pants, casual and formal dresses, and many more. Thus, it can be said that they are suitable for all your occasions with ease and comfort. Furthermore, we suggest you have the following ways of wearing the best shapewear for tummy and back fat extraordinarily:
Wear them as a basic tank top fashion when doing to a gym.
Put them on with a midi skirt or a maxi for having a unique look at cocktail parties
They can also be worn lounging around the house casually.
For extra coverage, you may wear them under a lacy or sheer top
For a grownup cocktail look and stylized fashion, try to put them on under a blazer along with comfortable jeans.
Choosing the right size
Choosing the most appropriate size of shapewear bodysuits is one of the trickiest parts. The reason behind this is that they are supposed to be tightly fitted all over your body. Only then will they will perform their job. As the main purpose of them is to provide support to the body along with style, comfort, and ease seamlessly. So, if they are not a perfect fit size for you, they will not look out class on you. The smaller ones will make you uncomfortable because will give you a tight feeling. While the bigger sizes bodysuits will not fit well according to your body shape. Thus, we recommend buying the one that suits your size exactly in order to avoid pinching and bulging of a too-tight suit.
Benefits of our extraordinary bodysuits
Most of the clients and customers of Hidethatfat love to have these sexy suits from us because they grant multiple benefits to them all-in-one. Some of the significant advantages of our products are given below
Our bodysuits are readily designed to be tucked in the right place without any discomfort
They are seamless, so no one can even guess that you have put them on under any of your clothing.
As they are body-hugging, so they give you a very flaunt less and sexy look when worn alone.
They are single-piece full body shapers and suits. That means you don't have to wear other undergarments like bras,

Panties

, and underwear along with them.
They are great to be worn underneath a gown or sheer blouse as they offer full-body coverage.
As they tend to be snug, so they are acknowledged to be great for layering under low-cut arm-holes and plunging necklines.
They are super stylish and come in a wide variety of designs.
One of the most significant benefits of our shapewear suits over traditional pantsuits and rompers is that they have easy snaps underneath for washroom needs comfortability.