Hey there, your blushing bride to be soon. Are you stumble upon this Hide that fat website for hovering down and looking for the Best Shapewear for Wedding Dress? Yes, without any doubt it is one of the greatest struggles for women to look for the best body shaper out there in the market for the biggest day of her life, given that each lady has a different body type and possesses her own body shaping goals and needs.
Therefore, here in this article, we ought to find the ideal fit and some of the most comfortable best body shapers for wedding dresses for you. They are all readily available at our store at the most reasonable prices.
Which Shapewear Are Best for Wedding Dress?
Every body shaper is used for under wedding dress and it us not specifically designed for every occasion. The top 5 best wedding dress shapewear that is most commonly used for every type of women. So, we have top selling wedding shapewear that are used for any wedding type these names are.
Shapewear Bodysuit for Wedding Dress
Plus Size Compression Full Body Shapewear
Chest enhancing bodysuit
So, these three body shapers for wedding are the best one's and using mostly in 2021.
Best Shapewear For Wedding Dress + How to Choose Bridal Shapewear in A Right Way?
Comfort is one of the most primordial considerations while shopping for a piece of clothing, Weather its a best shapewear or other garments. And on the wedding day, the bride actually wants to look Pretty while being in the most comfortable zone for attending several hours long function. So, the Best Shapewear for wedding dress is important on that day if you need it to look great.
How to Choose Bridal Shapewear in A Right Way?
You can buy wedding shapewear online, You can select the best one colors and variations. Be sure while buying it is exact your size and body measurements. First find the right size for you.
So the Shapewear size, mostly women's try the smaller dress after wearing it will makes you uncomfortable. Choose it exact your size and it will shape your body like slim overall top to bottom.
Always choose the shapewear size according to your body level, that is the right method to choose the body shaper.
Top 5 Best Shapewear for Wedding Dress
Shapewear Bodysuit for Wedding Dress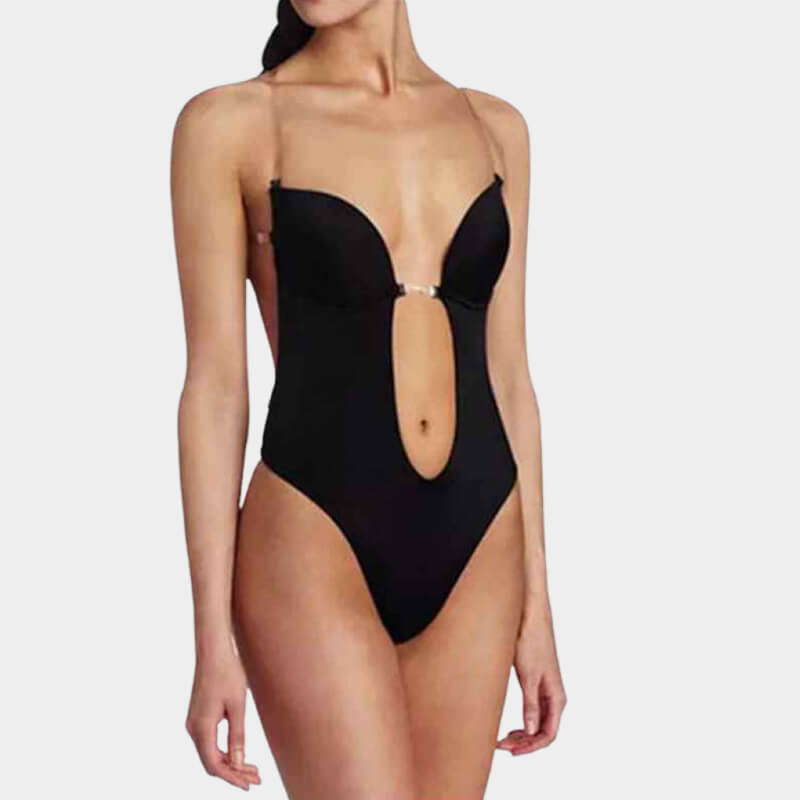 This backless design and Deep V-neck best backless shapewear for wedding dress build the sexiest look under all the different kinds of wedding dresses. In addition to that, its clear thin strips express the perfect you by providing support to your shoulders and back and relieving off extra pressure. Furthermore, its well-supported bra pads lift up your bust region and enhance your body figure's beauty.
Features
Adjustable wide shoulder straps

3 rows of hook and eye closures

Crotch design for easy bathroom

Well supported Bra pad

Full-length body shaper

Under breast steel rims

Deep V and backless design
Pros
The following are some of the advantages of this bridal shapewear low back:
Lift your breast region

Prevent chest from drooping

Perfect shoulder and back curve

Accommodates plunging necklines

Express perfect shoulder and back posture
Cons
This full bodysuit can only be worn under long wedding gowns. It will be visible under short-length bridal outfits.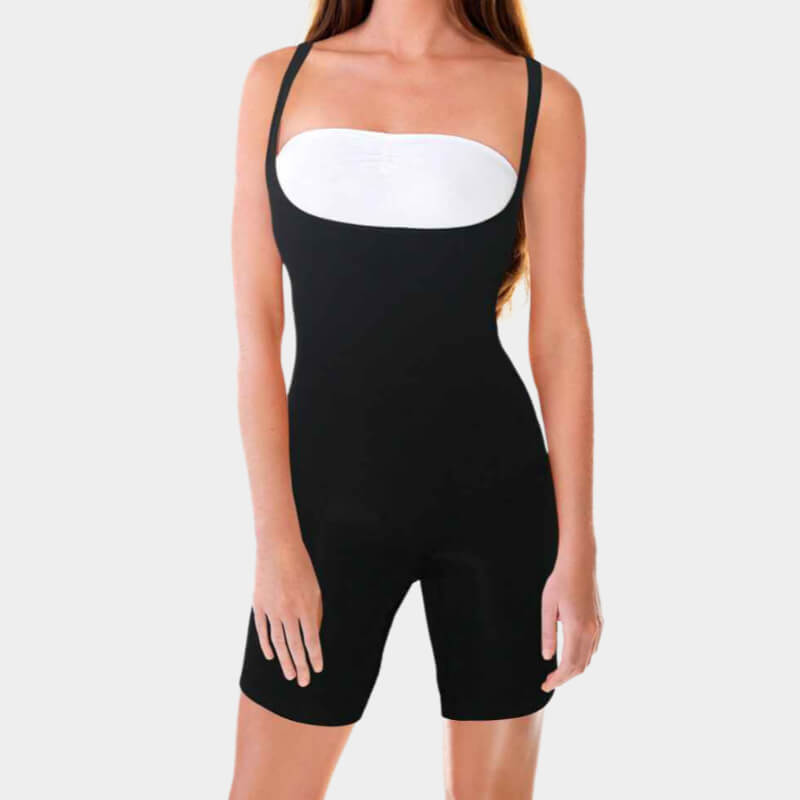 Unlike all other full-length bodysuits, this and most astonishing waist cincher for wedding dress silhouettes your chest and butt while holding in your core and smoothing your irregular lumps and bumps. It also shapes your waistline and hip bones. One extraordinary feature of this body shaper is that it is made of whisper-soft fabric and executes a seamless construction.
Features
Made of 90% polyester and 10% spandex

Suitable to wear every day

Extremely breathable

High elasticity

Medium control level

Slimming body shaper for women 

No decoration
Pros
This body shapewear for wedding dress grants you the following benefits:
Shapes and lifts your bust and butt region

Smooth all the lower, upper, and mid-thighs

Hold in your core and protect from injuries

Works as a seamless sculpting suit

Improves overall body posture
Cons
Brides already having either large breasts or a big booty are not recommended to wear it because it may ruin their overall wedding dress overall look instead of enhancing it. 
Strapless Body Shaper (Wedding Shapewear)
The perfect of all! This is the most reliably working body shaper under wedding dresses. It brings the maximum level of comfort along with a glamorous outlook of the bride. Moreover, its lips are crafted from silky fabric which is slightly stretchy and prevents slipping off. Besides smoothing the tummy and hips, this Best Shapewear for Wedding Dress boasts padded molded bra cups that create a beautiful bust shape.
Features
Boneless bra

Open crotch design

Seamless invisibility

High-up panties

Anti-slipping properties

Butt lifter

Comfortable and skin-friendly
Pros
A bride can have the following advantages from this outstanding shapewear under wedding gown:
Exceptional for upright body posture

Flatten tummy and irregular bugles

X-shape stretching

Remarkable back support

Make chest bigger and bustier
Cons
Strapless shapewears are most commonly for wedding purposes only.
Now you can say bye to all the consciousness that you are having of your wedding dress fitting and form with this remarkable wedding dress shapewear. It is truly unique and an amazing product for brides who want to look the best on their big day.
This undergarment not only slims down the body but also grants a perfect body posture to stand confidently in front of all. Moreover, being seamless, it acts as a perfect women's secret that men never get to know.
Features
Great comfortability and flexibility

Elegant embroidery and lace for a feminine touch

Open bust design for supporting breasts

Open crotch design for easy bathroom

Double layer firm compression

Effortless tummy tucking characteristics

Perfect problem solver
Pros
Some remarkable benefits of this wedding dress shaper are given below:
Compress thigh and lift butt region  

Helps in postpartum recovery

Give a sleek look by tucking the tummy

Support breasts region

Its comfy shaping snugly fits like a second skin
Cons
Some sensitive brides may not handle their double-layer compression and feel uncomfortable.
Compression Full Body Shapewear (Bridal Shapewear Plus Size)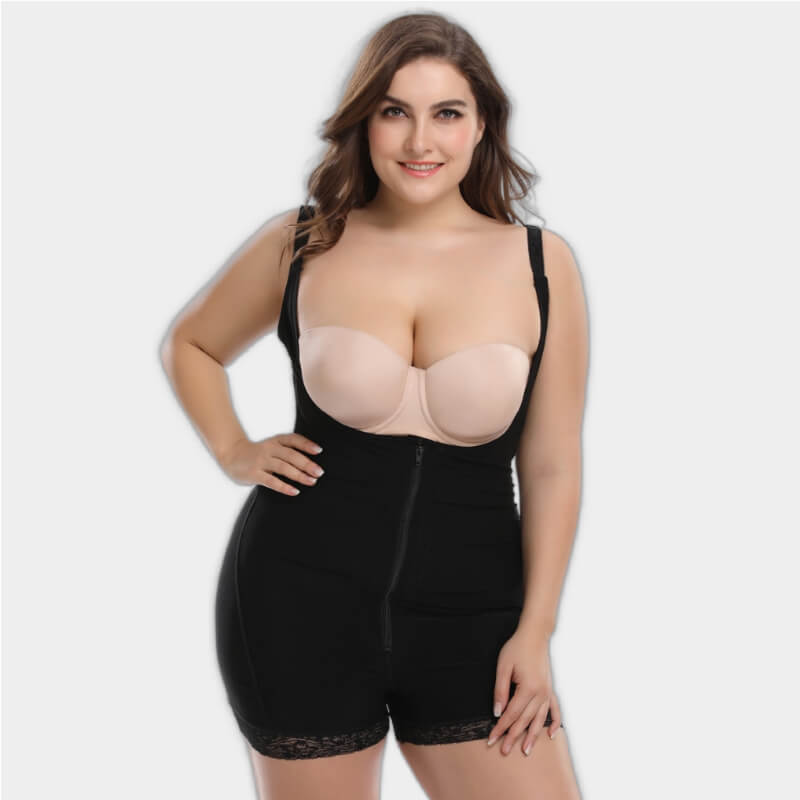 This full-body plus-size compression undergarment is composed of high-quality fabric with durable strength and elasticity. It exerts high compression all over the midsection to compress t and give you a perfect form and shape.
In addition to that, this Best Shapewear for Wedding Dress adopts a perfect inner mesh and 360o seamless craft which makes it the best shapewear for wedding dress plus size.
Features
Panty style waist shaper

Adjustable straps design

Power net of the external layer

Latest abdominal compression and reinforcement technology

Soft and elastic slimming fabric

Beautiful epoxy and lace bottoms

Invisible stitching without mistreating skin
Pros
The benefits a bride can have from this bridal shapewear plus size are following:
Give you a smooth look in all your casual and formal outfits

Allows you to wear your favorite bra along with it

Provide full body coverage to body

Great for thigh smoothing and butt-lifting

Helps in waist sculpting and tummy controlling
Cons
It is called super plus size shapewear because it can only be worn by brides who have a healthy figure or a long torso. 
Conclusion
Now as you are well aware of the top 5 Best Shapewear for Wedding Dress, you may be wondering what undergarments for wedding dress shopping will suit you the best? The answer to this question is that your choice of buying shapewear readily depends on three things
Your wedding dress silhouette and style

The areas of the body you want to target and compress

Your comfort zone and ease
Therefore, be very careful whenever you are going out for shopping shapewear especially for your wedding day. Also, before buying it try the final fitting of it on your body as it will only work the best when it will fit you snuggly as a second skin.